Events
Quedgeley W.I. Celebrate the Queen's 90th Birthday!
On Saturday 11th June 2016 Quedgeley W.I. celebrated the Queen's  90th birthday year by planting a flowering cherry tree in St James' church grounds.  We were delighted when Father John agreed to our request to plant the tree and he was there on the day to dedicate the tree which we hope will give pleasure to people visiting the church as it flourishes in years to come.  Our President, Pat Watts, added the last spade of earth at the ceremony, and a plaque will follow shortly to mark the occasion.  Afterwards the ladies of the W.I. went to the home of one of our members, Caroline Meek, and enjoyed a cream tea and a good natter in true W.I. style!  A lovely afternoon and fortunately the weather was kind to us and the rain came later to give our tree a good watering!
Update on our tree: March 2017, it's covered in beautiful blossom!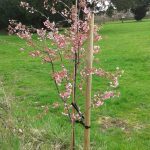 Quedgeley W.I. Celebrate a very Special Birthday!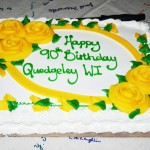 In the year that nationally the Women's Institute celebrate their centenary, Quedgeley W.I. was delighted to celebrate their 90th birthday on February 11th 2015 with a celebration supper.   Over 50 ladies and special gue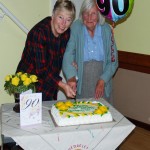 sts, including local Quedgeley City Councillor and this year's Mayor, Debbie Llewellyn and her consort husband Keith, sat down to a fish and chip supper, followed by scrumptious puddings made by W.I. members.  This was followed by a delicious birthday cake, ceremoniously cut by two of the longest serving members, Myrtle Nash and Caroline Meek.  After the meal the ladies were able to browse through old photograph albums and newspaper cuttings which charted the progress and history of Quedgeley W.I. through the years.  The competition for the evening was "My Memory of W.I." and this produced some interesting poems and photos for everyone to vote on and enjoy.   The President, Patricia Watts, in her introduction to the meeting remarked on the achievements of Quedgeley W.I. and how it was great to see it was still going strong and growing even after 90 years! A wonderful evening was thoroughly enjoyed by the ladies of Quedgeley W.I.